About the Mallen Conference
Back in spring 2000, Bruce Mallen hosted what became "the Mallen Conference in Filmed Entertainment".  From the very beginning, the idea of the conference has been to explore the entertainment industry, its creations, mechanisms, and decisions using rigorous statistical methods, empirical data, and theoretical thinking. The conference is a selective meeting of global leading scholars who are excited by the business and economics of film. At the heart of the conference is an original interest of the participants to advance managerial decision making in the context of entertainment in relevant ways – to advance the science and practice of entertainment.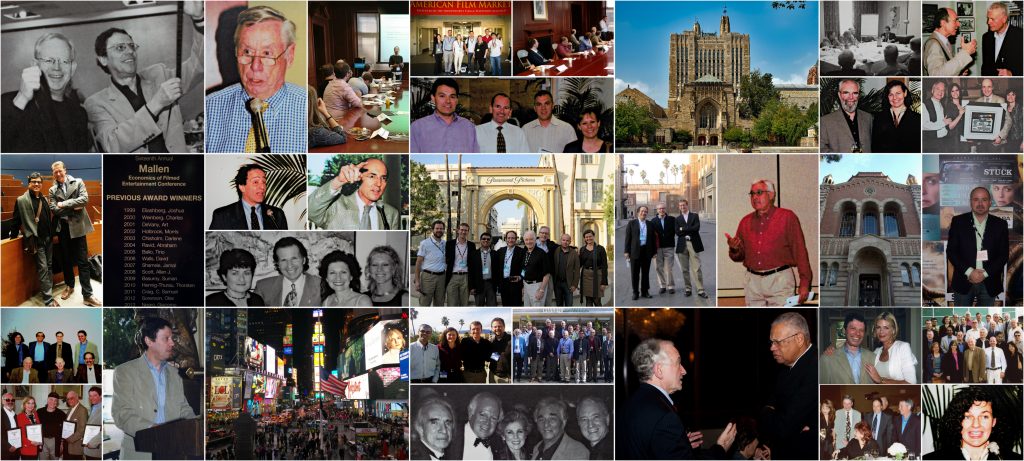 An essential element of the conference is to get those who study and teach entertainment together with those who make practical decisions about it – the managers that pull the strings in Hollywood and elsewhere in filmed entertainment. The conference has featured formats such as round tables, joint lunches and dinners, and studio visits and guided tours to ensure that the scholarly research is as relevant for entertainment practice as it can be. The Mallen conference has collaborated with the Fort Lauderdale International Film Festival (when hosted by Florida Atlantic) and the American Film Market (when in Los Angeles); attendants visited all major film studios in Hollywood and conversed with managers.
The theme of the invitation-only Mallen Conference is deliberately cross- and interdisciplinary. Participating scholars are not selected by their respective research disciplines, but instead their shared excitement about entertainment as the object of their work. This interdisciplinary way of thinking is evidenced by the list of winners of the annual award that the conference gives away to recognize scholarly contributions in the field of entertainment research – since Jehoshua Eliashberg from Wharton received the inaugural Mallen Award, awardees are a who-is-who of leading entertainment scholars from various discipline, including economics, marketing, management and organization, finance, and communication.
The first Mallen conference has taken place at Florida Atlantic University (Fort Lauderdale). Since then, the conference has taken place at UCLA (Los Angeles), at Yale's School of Management , and at Yeshiva University and NYU (both New York); its 20th anniversary event was co-hosted by Film University Babelsberg and Münster University in Potsdam and Berlin, bringing the Mallen conference to Europe for the first time.
You are a scholar doing research in entertainment or an entertainment manager and are interested in participating in an upcoming Mallen conference?
The Mallen Conference Steering Committee:
Allègre Hadida (University of Cambridge, UK), Thorsten Hennig-Thurau (University of Münster, Germany), S. Abraham Ravid (Yeshiva University, New York City, USA), & Olav Sorenson (University of California, Los Angeles, USA)